hTERT Expression
hTERT and Cell Immortalization:
Human Telomerase Reverse Transcriptase (h TERT) plays a role in cellular senescence and also participates in chromosomal repair. When hTERT is exogenously expressed, the cells are able to maintain telomere lengths to avoid cell senescence. Therefore, hTERT is widely used for primary cell immortalization for variety of cell types.
For some primary cell types, the cell immortalization may requires a combination of immortalization method, like, the over-expression of both hTERT and SV40 Large T antigen. (Note: for some cell types, the over-expression hTERT may be toxic, causing cell death. If so, you have to other method, like use SV40 T antigen for the immortalization.)
hTERT Expression Lentivirus:
hTERT expression lentivirus products are generated from GenTarget's re-engineered lentivector system. The hTERT longest transcript (variant 1) of hTERT codon sequence (NM_198253), was expressed under an enhanced CMV promoter (suCMV) or enhanced EF1a promoter. The suCMV promoter demonstrate the strongest expression in most cell types and the enhanced EF1a promoter is active in almost all cell types and less likely to be silenced during long-term culture. Each Lentivirus is featured with a selection marker and with or without a fluorescent maker. (see vector map scheme below).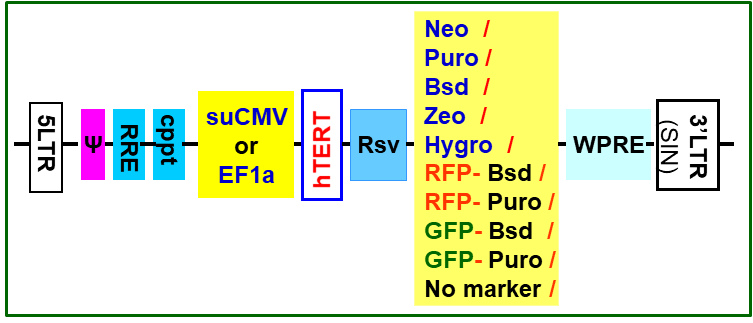 These hTERT Lentivirus are available with different selection markers:  Neomycin (Neo), Puromycin (Puro), Blasticidin (Bsd), Zeocin (Zeo), or Hygromycin (Hygro), or antibiotic-fluorescent fusion dual marker (GFP/RFP–Bsd, GFP/RFP–Puro)  for  monitoring viral efficiency, selection or sorting transduced cells.   
Lentivirus are provided as  in two formats:
Crude Lentivirus: 200ul /vial in DMEM containing 10 x Polybrene;
Concentrated lentivirus: 200ul PBS solution which is better for hard-to-transduced cell types or for serum-free culture.
Please see Product Manual for details.
Name
SKU
Price
Buy
hTERT (CMV, Bsd) lentivirus
LVP1130-Bsd

$

350.00

hTERT (CMV, Bsd) lentivirus in PBS
LVP1130-Bsd-PBS

$

650.00

hTERT (CMV, GFP-Bsd) lentivirus
LVP1130-GB

$

350.00

hTERT (CMV, GFP-Bsd) lentivirus in PBS
LVP1130-GB-PBS

$

650.00

hTERT (CMV, GFP-Puro) lentivirus
LVP1130-GP

$

350.00
hTERT (CMV, GP) lentivirus in PBS
LVP1130-GP-PBS

$

650.00

hTERT (CMV, Hygro) lentivirus
LVP1130-Hygro

$

350.00

hTERT (CMV, Hygro) lentivirus in PBS
LVP1130-Hygro-PBS

$

650.00

hTERT (CMV, Neo) lentivirus
LVP1130-Neo

$

350.00

hTERT (CMV, Neo) lentivirus in PBS
LVP1130-Neo-PBS

$

650.00

hTERT (CMV, Puro) lentivirus
LVP1130-Puro

$

350.00

hTERT (CMV, Puro) lentivirus in PBS
LVP1130-Puro-PBS

$

650.00

hTERT (CMV, RFP-Bsd) lentivirus
LVP1130-RB

$

350.00

hTERT (CMV, RFP-Bsd) lentivirus in PBS
LVP1130-RB-PBS

$

650.00

hTERT (CMV, RFP-Puro) lentivirus
LVP1130-RP

$

350.00

hTERT (CMV, RFP-Puro) lentivirus in PBS
LVP1130-RP-PBS

$

650.00

hTERT (CMV, Zeo) lentivirus
LVP1130-Zeo

$

350.00

hTERT (CMV, Zeo) lentivirus in PBS
LVP1130-Zeo-PBS

$

650.00

hTERT (EF1a, Bsd) lentivirus
LVP1131-Bsd

$

350.00

hTERT (EF1a, Bsd) lentivirus in PBS
LVP1131-Bsd-PBS

$

650.00

hTERT (EF1a, GFP-Bsd) lentivirus
LVP1131-GB

$

350.00

hTERT (EF1a, GFP-Bsd) lentivirus in PBS
LVP1131-GB-PBS

$

650.00

hTERT (EF1a, GFP-Puro) lentivirus
LVP1131-GP

$

350.00

hTERT (EF1a, GP) lentivirus in PBS
LVP1131-GP-PBS

$

650.00

hTERT (EF1a, Hygro) lentivirus
LVP1131-Hygro

$

350.00

hTERT (EF1a, Hygro) lentivirus in PBS
LVP1131-Hygro-PBS

$

650.00

hTERT (EF1a, Neo) lentivirus
LVP1131-Neo

$

350.00

hTERT (EF1a, Neo) lentivirus in PBS
LVP1131-Neo-PBS

$

650.00

hTERT (EF1a, Puro) lentivirus
LVP1131-Puro

$

350.00

hTERT (EF1a, Puro) lentivirus in PBS
LVP1131-Puro-PBS

$

650.00

hTERT (EF1a, RFP-Bsd) lentivirus
LVP1131-RB

$

350.00

hTERT (EF1a, RFP-Bsd) lentivirus in PBS
LVP1131-RB-PBS

$

650.00

hTERT (EF1a, RFP-Puro) lentivirus
LVP1131-RP

$

350.00

hTERT (EF1a, RFP-Puro) lentivirus in PBS
LVP1131-RP-PBS

$

650.00

hTERT (EF1a, Zeo) lentivirus
LVP1131-Zeo

$

350.00

hTERT (EF1a, Zeo) lentivirus in PBS
LVP1131-Zeo-PBS

$

650.00

hTERT (EF1a) lentivirus
LVP1131

$

350.00

hTERT (EF1a) lentivirus in PBS
LVP1131-PBS

$

650.00