CRE recombinase
Expression Lentivirus
CRE recombinase, from bacteriophage P1, catalyzes recombination between 34 base-pair target sequences, called lox sites. Purified CRE enzyme can join individual plasmids containing lox sites. GenTarget provides premade, expression-ready CRE lentiviral particles that can catalyze the joining of lox sites  in vivo. CRE expressed by these particles contains the nuclear localization signal (NLS), PKKKRKV from the SV40 Large T-antigen at its N-terminus, allowing penetration of the nuclear membrane and thereby increasing the number of in vivo recombination events.
To meet your research needs, GenTarget provides CRE expression lentiviral particles with a selection of fluorescent markers, antibiotic markers, and fluorescent-antibiotic fusion dual markers. We also provide CRE, luciferase, and fluorescent protein (GFP/RFP) triple-labeled lentivirus. CRE is expressed under an optional inducible CMV promoter (TetCMV), the enhanced EF1a promoter, or a CAG promoter and localized to the nucleus.  Please see the  vector structure diagrams below: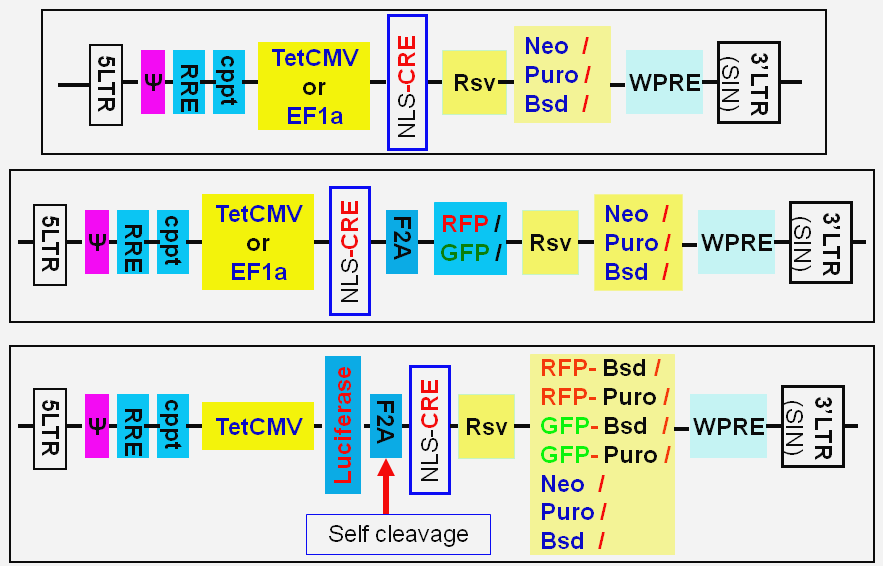 The CRE expression lentiviruses are provided as 200ul/per vial in two formats: (1) in DMEM medium with 10% FBS and 60 ug/ml polybrene (10x); (2) in PBS solution, which is best for in vivo applications, or for cell cultures requesting serum-free conditions, or for hard-to-infected cells.
Note: Ultra concentrated virus (>= 109 IFU/ml) is available upon special requests.
Please see each Product Manual below for details.
Name
SKU
Price
Buy
CRE (Bsd), CAG lentivirus
LVP574

$

295.00

CRE (Bsd), CAG lentivirus in PBS
LVP574-PBS

$

650.00

CRE (Bsd), CMV lentivirus
LVP336

$

295.00

CRE (Bsd), CMV lentivirus in PBS
LVP336-PBS

$

650.00

CRE (Bsd), EF1a lentivirus
LVP519

$

295.00

CRE (Bsd), EF1a lentivirus in PBS
LVP519-PBS

$

650.00

CRE (GFP-Puro), CAG lentivirus
LVP576

$

295.00

CRE (GFP-Puro), CAG lentivirus in PBS
LVP576-PBS

$

650.00

CRE (Neo), CAG lentivirus
LVP575

$

295.00

CRE (Neo), CAG lentivirus in PBS
LVP575-PBS

$

650.00

CRE (Neo), CMV lentivirus
LVP297

$

295.00

CRE (Neo), CMV lentivirus in PBS
LVP297-PBS

$

650.00

CRE (Neo), EF1a lentivirus
LVP521

$

295.00

CRE (Neo), EF1a lentivirus in PBS
LVP521-PBS

$

650.00

CRE (Puro), CAG lentivirus
LVP573

$

295.00

CRE (Puro), CAG lentivirus in PBS
LVP573-PBS

$

650.00

CRE (Puro), CMV lentivirus
LVP339

$

295.00

CRE (Puro), CMV lentivirus in PBS
LVP339-PBS

$

650.00

CRE (Puro), EF1a lentivirus
LVP520

$

295.00

CRE (Puro), EF1a lentivirus in PBS
LVP520-PBS

$

650.00

CRE (RFP-Bsd), CAG lentivirus
LVP577

$

295.00

CRE (RFP-Bsd), CAG lentivirus in PBS
LVP577-PBS

$

650.00

CRE (RFP-Puro), CAG lentivirus
LVP578

$

295.00

CRE (RFP-Puro), CAG lentivirus in PBS
LVP578-PBS

$

650.00

CRE-2A-GFP (Bsd), CMV lentivirus
LVP337

$

295.00

CRE-2A-GFP (Bsd), CMV lentivirus in PBS
LVP337-PBS

$

650.00

CRE-2A-GFP (Bsd), EF1a lentivirus
LVP525

$

295.00

CRE-2A-GFP (Bsd), EF1a lentivirus in PBS
LVP525-PBS

$

650.00

CRE-2A-GFP (CMV-Puro) lentivirus
LVP407

$

295.00

CRE-2A-GFP (CMV-Puro) lentivirus in PBS
LVP407-PBS

$

650.00

CRE-2A-GFP (Neo), CMV lentivirus
LVP408

$

295.00

CRE-2A-GFP (Neo), CMV lentivirus in PBS
LVP408-PBS

$

650.00

CRE-2A-GFP (Neo), EF1a lentivirus
LVP527

$

295.00

CRE-2A-GFP (Neo), EF1a lentivirus in PBS
LVP527-PBS

$

650.00

CRE-2A-GFP (Puro), EF1a lentivirus
LVP526

$

295.00

CRE-2A-GFP (Puro), EF1a lentivirus in PBS
LVP526-PBS

$

650.00

CRE-2A-GFP, CMV lentivirus
LVP804

$

295.00

CRE-2A-GFP, CMV lentivirus in PBS
LVP804-PBS

$

650.00

CRE-2A-RFP (Bsd), CMV lentivirus
LVP013

$

295.00

CRE-2A-RFP (Bsd), CMV lentivirus in PBS
LVP013-PBS

$

650.00

CRE-2A-RFP (Bsd), EF1a lentivirus
LVP522

$

295.00

CRE-2A-RFP (Bsd), EF1a lentivirus in PBS
LVP522-PBS

$

650.00

CRE-2A-RFP (Neo), CMV lentivirus
LVP027

$

295.00

CRE-2A-RFP (Neo), CMV lentivirus in PBS
LVP027-PBS

$

650.00

CRE-2A-RFP (Neo), EF1a lentivirus
LVP524

$

295.00

CRE-2A-RFP (Neo), EF1a lentivirus in PBS
LVP524-PBS

$

650.00

CRE-2A-RFP (Puro), CMV lentivirus
LVP338

$

295.00

CRE-2A-RFP (Puro), CMV lentivirus in PBS
LVP338-PBS

$

650.00

CRE-2A-RFP (Puro), EF1a lentivirus
LVP523

$

295.00

CRE-2A-RFP (Puro), EF1a lentivirus in PBS
LVP523-PBS

$

650.00

CRE-2A-RFP, CMV lentivirus
LVP805

$

295.00

CRE-2A-RFP, CMV lentivirus in PBS
LVP805-PBS

$

650.00

Luciferase-2A-CRE (Bsd) lentiviral particles
LVP304

$

450.00

Luciferase-2A-CRE (Bsd) lentivirus in PBS
LVP304-PBS

$

800.00

Luciferase-2A-CRE (GFP-Bsd) lentiviral particles
LVP411

$

450.00

Luciferase-2A-CRE (GFP-Bsd) lentivirus in PBS
LVP411-PBS

$

800.00

Luciferase-2A-CRE (GFP-Puro) lentiviral particles
LVP412

$

450.00

Luciferase-2A-CRE (GFP-Puro) lentivirus in PBS
LVP412-PBS

$

800.00

Luciferase-2A-CRE (Neo) lentiviral particles
LVP410

$

450.00

Luciferase-2A-CRE (Neo) lentivirus in PBS
LVP410-PBS

$

800.00

Luciferase-2A-CRE (Puro) lentiviral particles
LVP409

$

450.00

Luciferase-2A-CRE (Puro) lentivirus in PBS
LVP409-PBS

$

800.00

Luciferase-2A-CRE (RFP-Bsd) lentiviral particles
LVP413

$

450.00

Luciferase-2A-CRE (RFP-Bsd) lentivirus in PBS
LVP413-PBS

$

800.00

Luciferase-2A-CRE (RFP-Puro) lentiviral particles
LVP414

$

450.00

Luciferase-2A-CRE (RFP-Puro) lentivirus in PBS
LVP414-PBS

$

800.00