CAR-T and More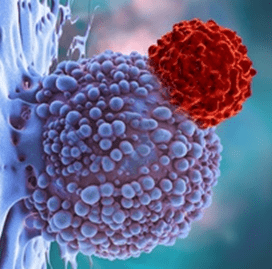 Note:  All products and services are For Research Use Only and CANNOT be used in the treatment or diagnosis of disease.
What is CAR-T?
CARs (Chimeric Antigen Receptors) are the method to modify T cells to produce a special structure on their surface. The structure consists of two parties, the antigen-binding, and the T cell activation. The Antigen-Binding, like an antibody, targets a tumor surface antigen. The antigen-binding moieties usually the scFv's derived from antibodies (for example, targeting a tumor surface antigen), or Fab segment, or nature ligands binding their cognate receptor. The activation part consists of a chimeric molecule activation domain (1st generation CARs), or a fusion containing both activating and co-stimulatory properties (2nd generation CARs). The 2nd-generation CARs encompass the CD3-ζ chain and the cytoplasmic domain of a co-stimulatory receptor such as CD28, 4-1BB, CD80 CD40L. The so-called 3rd– generation of CARs embed two co-stimulatory domains combined with an activation domain in their cytoplasmic domain.
CAR-modified T cells are tumor-targeted T cells, enhanced T cell expansion and persistence within tumor microenvironment, thus rapidly evolve a potential cancer immunotherapy. The encoded expression of cytokines in CAR-T cells can further alter the tumor microenvironment, showing great enhancement for this approach. For example, CD19-targeted, CAR-modified T cells expressing IL-12 showed greater efficacy than CAR-modified T cells alone.
What is TCRs?
T cell receptors (TCRs) are a group of proteins found on T cells that bind to certain antigens (proteins) found on abnormal cells, cancer cells, cells from other organisms, and cells infected with a virus or another microorganism. This interaction causes the T cells to attack these cells and helps the body fight infection, cancer, or other diseases.
Unlike CAR-T cell therapy, which involves engineering synthetic receptors, TCR cell therapy utilizes naturally occurring TCRs that recognize specific antigens.
TCR engages HLA-peptide complexes and needs to be matched to the patient's haplotype. CARs however do not require antigen processing and presentation by HLA. CARs are limited to recognizing cell surface antigens, whereas TCRs recognize both cell surface and intracellular proteins.
Gentarget's CAR and TCR lentivirus?

Gentarget has developed a series of CAR-T products for a variety of targets such as CD19, CD28, BCMA, and more, carrying different fluorescent or/and antibiotic selection marker. See our CAR-T Lentivector map scheme above.
See products listed below, or click Product Manual to see all products.
We also provide services to generate your desired CAR construct / lentivirus. Please contact us for service inquiries.