Luciferase cells
Premade Luciferase stable cell lines in different Host cells:
Pre-made stable cell line, derived from different host cell line, constitutively expresses a luciferase enzyme: firefly luc, or Renilla luc with different fluorescent and antibiotic markers.
When included, a fluorescent protein (GFP or RFP) or the CRE recombinase is co-expressed under the same super CMV promoter. Different antibiotic markers (or fluorescent-antibiotic fusion markers) were expressed under RSV promoter. See the expression cassette scheme below for details.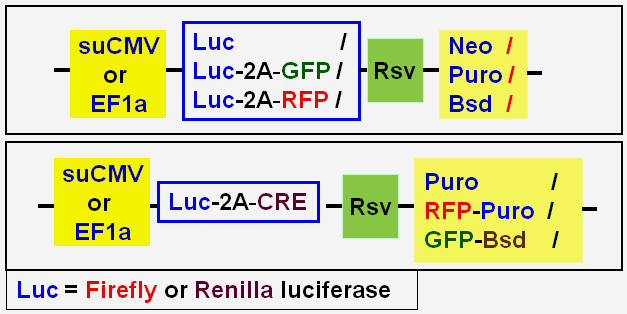 Note: for the completed culture medium components of each cell line, please refer to that for each host cell type or to ATCC's website.
Please click each product's link below for product details, or click here to see Product Manual.
Name
SKU
Price
Buy
A549 / Luciferase (Puromycin) stable cells
SC043-Luc

$

600.00

A549 / Luciferase-2A-GFP (Puromycin) stable cells
SC043-LG

$

1,500.00

CFPAC-1 / Luciferase (Puromycin) stable cells
SC054-L

$

1,000.00

HEK293 / Luciferase (firefly) Stable Cells (Blasticidin)
SC002-Bsd

$

450.00

HEK293T / Luciferase stable cells (RFP / Puromycin)
SC002T-RP

$

600.00

Human B lymphocyte (Luciferase / GFP) Stable Cells
SC060-LG

$

2,500.00

Human B lymphocyte (Luciferase / RFP) Stable Cells
SC060-LR

$

2,500.00

Human 786-O (Luciferase / GFP) Stable Cells
SC069-LG

$

2,000.00

Human 786-O/ Luciferase stable cells
SC069-Luc

$

1,500.00

Human AsPC1 (Luciferase & GFP) Stable Cells
SC062-LG

$

1,500.00

Human AsPC1 (Luciferase & RFP) Stable Cells
SC062-LR

$

1,500.00

Human ES2 (Luciferase & GFP) Stable Cells
SC066-LG

$

1,500.00

Human ES2 / (Luciferase & RFP) Stable Cells
SC066-LR

$

1,500.00

Human MCF10A / Luciferase stable cells
SC073-Luc

$

2,500.00

Human PANC-1 / (Luciferase & GFP) Stable Cells
SC068-LG

$

2,000.00

Human SW1990 / (Luciferase & GFP) Stable Cells
SC074-LG

$

2,500.00

Human SW1990 / Luciferase stable cells
SC074-Luc

$

2,000.00

Human T47D (Luciferase / GFP) Stable Cells
SC072-LG

$

2,000.00

Human T47D / Luciferase stable cells
SC072-Luc

$

1,500.00

Jurkat T / Luciferase (Puromycin) stable cells
SC048

$

2,000.00

Luciferase (firefly) & CRE Expression cell line (GFP-Bsd)
SC021-GB

$

1,200.00

Luciferase (firefly) & CRE Expression cell line (RFP-Puro)
SC021-RP

$

1,200.00

Luciferase (firefly) & CRE Expression stable cell line (Puro)
SC021-Puro

$

800.00

Luciferase (firefly) Expression Hela cells (Bsd)
SC032-Bsd

$

800.00

Luciferase (firefly) Expression Hela cells (Puro)
SC032-Puro

$

800.00

Luciferase (firefly), HEK293 stable cells, (GFP / Blasticidin)
SC002-GB

$

600.00

Luciferase (firefly), HEK293 stable cells, (GFP / Puromycin)
SC002-GP

$

600.00

Luciferase (firefly), HEK293 stable cells, (Neomycin)
SC002-Neo

$

450.00

Luciferase (firefly), HEK293 stable cells, (Puromycin)
SC002-Puro

$

450.00

Luciferase (firefly), HEK293 stable cells, (RFP / Blasticidin)
SC002-RB

$

600.00

Luciferase (firefly), HEK293 stable cells, (RFP / Puromycin)
SC002-RP

$

600.00

Luciferase (Renilla), HEK293 stable cells, (Puromycin)
SC020-Puro

$

650.00

Luciferase (Renilla), HEK293 stable cells, (RFP-Puromycin)
SC020-RP

$

1,000.00

Luciferase & GFP Expression Hela cells (Bsd)
SC032-GB

$

1,200.00

Luciferase & GFP Expression Hela cells (Neo)
SC032-GN

$

1,200.00

Luciferase & GFP Expression Hela cells (Puro)
SC032-GP

$

1,200.00

Luciferase & RFP Expression Hela cells (Bsd)
SC032-RB

$

1,200.00

Luciferase & RFP Expression Hela cells (Neo)
SC032-RN

$

1,200.00

Luciferase & RFP Expression Hela cells (Puro)
SC032-RP

$

1,200.00

MCF7 / Luciferase (Puromycin) stable cells
SC050-L

$

800.00

MDA-MB-231 / Luciferase (Bsd) stable cells
SC059-Bsd

$

1,000.00

MDA-MB-231 / Luciferase (Puro) stable cells
SC059-Puro

$

1,000.00

MDA-MB-231 / Luciferase-2A-GFP Stable Cell Line
SC044

$

1,500.00

MDA-MB-231 / Luciferase-2A-RFP Stable Cell Line
SC041

$

1,500.00

Mouse CT26 (Luciferase & GFP) Stable Cells
SC061-LG

$

1,500.00

Mouse CT26 (Luciferase & RFP) Stable Cells
SC061-LR

$

1,500.00

Mouse B lymphocyte (Luciferase & RFP) Stable Cells
SC063-LR

$

2,000.00

Mouse MB49 (Luciferase & GFP) Stable Cells
SC065-LG

$

2,000.00

Mouse MB49 / (Luciferase & RFP) Stable Cells
SC065-LR

$

2,000.00

NCI-H1299 / Luciferase (Puro) stable cells
SC053-L

$

1,000.00

ZR-75-1 / Luciferase (Puro) stable cells
SC051-L

$

1,000.00