Fluorescent Markers
GFP/ CFP/ BFP / YFP/ RFP / niRFP Expression Lentivirus:
Utilizing our engineered lentivectors and packaging system, GenTarget provides ready-to-use lentiviral particles for all commonly used fluorescent proteins: GFP, RFP, CFP, BFP YFP, niRFP and others. 
GFP

(Ex/Em:

450/520 nm)

RFP

(Ex /Em:

545/620 nm)

BFP

(Ex/Em:

390/450 nm)

YFP

(Ex/Em:

500/535 nm)

CFP

(Ex/Em:

450/780 nm)

niRFP

(Ex/Em:

670-690/710-770 nm)

Unstable GFP

(Ex/Em:

450/520 nm)
Each fluorescent protein is human codon-optimized to demonstrate the strongest possible fluorescence signal and expressed under different promoters to best suitable for different cell types.  Please see the schematic lentivector structures below: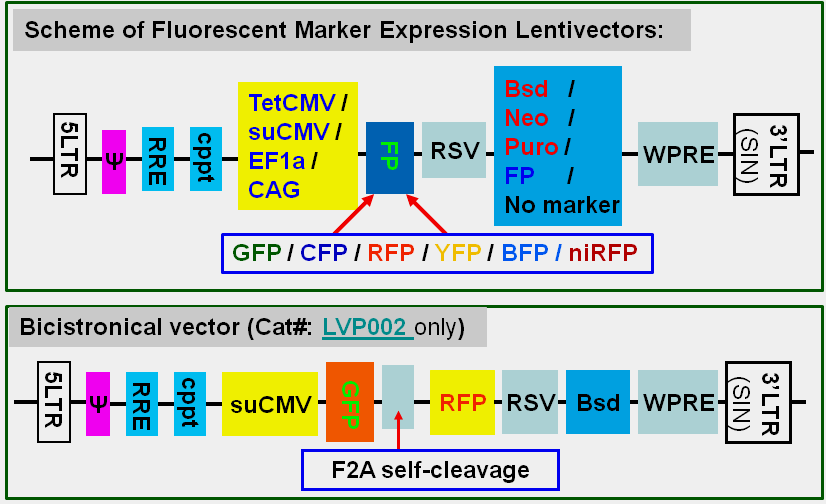 Product Features:
The proprietary

suCMV promoter 

demonstrates the highest expression level in the majority of cell types.

The engineered EF1a promoter 

is non-tissue specific, highly expressed in all cell types, and less likely to be silenced after long-term culture.

The 

CAG promoter

–a hybrid of the CMV enhancer and chicken beta-actin promoter–has the highest expression level in embryonic stem cells.

The 

optional inducible CMV

promoter (TetCMV

) can be used as either a constitutive high expression or as inducible expression. 

Different antibiotic marker for selection flexibility.
The fluorescent lentivirus are ideal for testing transduction efficiency, cell tracking, stable cell line construction, and enzymatic assays both in vivo and in vitro. They are extremely easy to use with no need for any mixing or addition, and almost no cell toxicity. Simply add virus into cultured cells. You will be able to observe expression in 24  to 72 hours depends on cell types. 
Product are provided in two formats:  
In DMEM medium with 10% FBS and 60 µg/ml polybrene.

Concentrated, purified, and buffer exchanged into PBS for use In Vivo or for serum sensitive culture.
Click each color above to see each sub-category products, or see all product from  Product Manual (.pdf).
Name
SKU
Price
Buy
BFP (CMV, Bsd) lentiviral particles
LVP362

$

295.00

BFP (CMV, Bsd) lentiviral particles in PBS
LVP362-PBS

$

650.00

BFP (CMV, Neo) lentiviral particles
LVP363

$

295.00

BFP (CMV, Neo) lentiviral particles in PBS
LVP363-PBS

$

650.00

BFP (CMV, Puro) lentiviral particles
LVP361

$

295.00

BFP (CMV, Puro) lentiviral particles in PBS
LVP361-PBS

$

650.00

BFP (EF1a, Bsd) lentiviral particles
LVP365

$

295.00

BFP (EF1a, Bsd) lentiviral particles in PBS
LVP365-PBS

$

650.00

BFP (EF1a, Neo) lentiviral particles
LVP366

$

295.00

BFP (EF1a, Neo) lentiviral particles in PBS
LVP366-PBS

$

650.00

BFP (EF1a, Puro) lentiviral particles
LVP364

$

295.00

BFP (EF1a, Puro) lentiviral particles in PBS
LVP364-PBS

$

650.00

CFP (CAG, Bsd) lentiviral particles
LVP586

$

295.00

CFP (CAG, Bsd) lentiviral particles in PBS
LVP586-PBS

$

650.00

CFP (CAG, Neo) lentiviral particles
LVP587

$

295.00

CFP (CAG, Neo) lentiviral particles in PBS
LVP587-PBS

$

650.00

CFP (CAG, Puro) lentiviral particles
LVP585

$

295.00

CFP (CAG, Puro) lentiviral particles in PBS
LVP585-PBS

$

650.00

CFP (CMV, Bsd) lentiviral particles
LVP011

$

295.00

CFP (CMV, Bsd) lentiviral particles in PBS
LVP011-PBS

$

650.00

CFP (CMV, Neo) lentiviral particles
LVP306

$

295.00

CFP (CMV, Neo) lentiviral particles in PBS
LVP306-PBS

$

650.00

CFP (CMV, Puro) lentiviral particles
LVP342

$

295.00

CFP (CMV, Puro) lentiviral particles in PBS
LVP342-PBS

$

650.00

CFP (EF1a, Bsd) lentiviral particles
LVP430

$

295.00

CFP (EF1a, Bsd) lentiviral particles in PBS
LVP430-PBS

$

650.00

CFP (EF1a, Neo) lentiviral particles
LVP431

$

295.00

CFP (EF1a, Neo) lentiviral particles in PBS
LVP431-PBS

$

650.00

CFP (EF1a, Puro) lentiviral particles
LVP432

$

295.00

CFP (EF1a, Puro) lentiviral particles in PBS
LVP432-PBS

$

650.00

CFP (EF1a, RB) lentiviral particles
LVP468

$

450.00

CFP (EF1a, RB) lentiviral particles in PBS
LVP468-PBS

$

650.00

GFP (ActB, Puro) Lentiviral particles
LVP1230

$

295.00

GFP (ActB, Puro) lentiviral particles in PBS
LVP1230-PBS

$

650.00

GFP (CAG, Bsd) lentiviral particles
LVP580

$

295.00

GFP (CAG, Bsd) lentiviral particles in PBS
LVP580-PBS

$

650.00

GFP (CAG, Neo) lentiviral particles
LVP581

$

295.00

GFP (CAG, Neo) lentiviral particles in PBS
LVP581-PBS

$

650.00

GFP (CAG, Puro) lentiviral particles
LVP579

$

295.00

GFP (CAG, Puro) lentiviral particles in PBS
LVP579-PBS

$

650.00

GFP (CMV-Neo) lentiviral particles in PBS
LVP300-PBS

$

650.00

GFP (CMV, Bsd) lentiviral particles
LVP001

$

295.00

GFP (CMV, Bsd) lentiviral particles in PBS
LVP001-PBS

$

650.00

GFP (CMV, Hygro) Lentiviral particles
LVP1233

$

295.00

GFP (CMV, Hygro) lentiviral particles in PBS
LVP1233-PBS

$

650.00

GFP (CMV, Neo) lentiviral particles
LVP300

$

295.00

GFP (CMV, No antibiotics) lentiviral particles
LVP1334

$

295.00

GFP (CMV, No antibiotics) Lentivirus, concentrated
LVP1334-PBS

$

650.00

GFP (CMV, Puro) lentiviral particles
LVP340

$

295.00

GFP (CMV, Puro) lentiviral particles in PBS
LVP340-PBS

$

650.00

GFP (CMV, Zeo) Lentiviral particles
LVP1231

$

295.00

GFP (CMV, Zeo) lentiviral particles in PBS
LVP1231-PBS

$

650.00

GFP (EF1a, Bsd) lentiviral particles
LVP310

$

295.00

GFP (EF1a, Bsd) lentiviral particles in PBS
LVP310-PBS

$

650.00

GFP (EF1a, Neo) lentiviral particles
LVP425

$

295.00

GFP (EF1a, Neo) lentiviral particles in PBS
LVP425-PBS

$

650.00

GFP (EF1a, No antibiotics) lentiviral particles
LVP1335

$

295.00

GFP (EF1a, No antibiotics) Lentivirus, concentrated
LVP1335-PBS

$

650.00

GFP (EF1a, Puro) lentiviral particles in PBS
LVP426-PBS

$

650.00

GFP (EF1a, Zeo) Lentiviral particles
LVP1333

$

295.00

GFP (EF1a, Zeo) Lentivirus in PBS
LVP1333-PBS

$

650.00

GFP (mPGK, Puro) Lentiviral particles
LVP1228

$

295.00

GFP (mPGK, Puro) lentiviral particles in PBS
LVP1228-PBS

$

650.00

GFP (Ubc, Puro) Lentiviral particles
LVP1229

$

295.00

GFP (Ubc, Puro) lentiviral particles in PBS
LVP1229-PBS

$

650.00

GFP-2a-Puromycin (CMV Promoter), Concentrated Lentivirus
LVP340B-PBS

$

650.00

GFP-His-RFP (Bsd) Lentiviral particles
LVP002

$

295.00

GFP-His-RFP (Bsd) Lentiviral particles in PBS
LVP002-PBS

$

650.00

GFP-lacZ (His) Lentiviral particles
LVP021

$

500.00

GFP-lacZ (His) Lentiviral particles, in vivo ready
LVP021-PBS

$

800.00

GFP-Puromycin Fusion (EF1a Promoter), Concentrated Lentivirus
LVP426B-PBS

$

650.00

mCherry (CMV, Puro), Concentrated Lentivirus
LVP1419-PBS

$

650.00

mCherry (EF1a, Puro), Concentrated Lentivirus
LVP1420-PBS

$

650.00

mKate (CMV, Puro), Concentrated Lentivirus
LVP1507-PBS

$

650.00

mTomato (CMV, Puro), Concentrated Lentivirus
LVP1506-PBS

$

650.00

RFP (CAG, Bsd) lentiviral particles
LVP583

$

295.00

RFP (CAG, Bsd) lentiviral particles in PBS
LVP583-PBS

$

650.00

RFP (CAG, Neo) lentiviral particles
LVP584

$

295.00

RFP (CAG, Neo) lentiviral particles in PBS
LVP584-PBS

$

650.00

RFP (CAG, Puro) lentiviral particles
LVP582

$

295.00

RFP (CAG, Puro) lentiviral particles in PBS
LVP582-PBS

$

650.00

RFP (CMV-Bsd) lentiviral particles in PBS
LVP023-PBS

$

650.00

RFP (CMV-Neo) Lentiviral particles in PBS
LVP299-PBS

$

650.00

RFP (CMV, Bsd) Lentiviral particles
LVP023

$

295.00

RFP (CMV, Hygro) Lentiviral particles
LVP1226

$

295.00

RFP (CMV, Hygro) lentiviral particles in PBS
LVP1226-PBS

$

650.00

RFP (CMV, Neo) Lentiviral particles
LVP299

$

295.00

RFP (CMV, No antibiotics) lentiviral particles
LVP1336

$

295.00

RFP (CMV, No antibiotics) lentivirus, Concentrated
LVP1336-PBS

$

650.00

RFP (CMV, Puro) Lentiviral particles
LVP309

$

295.00

RFP (CMV, Puro) lentiviral particles in PBS
LVP309-PBS

$

650.00

RFP (CMV, Zeo) Lentiviral particles
LVP1224

$

295.00

RFP (CMV, Zeo) lentiviral particles in PBS
LVP1224-PBS

$

650.00

RFP (EF1a, Bsd) lentiviral particles
LVP427

$

295.00

RFP (EF1a, Bsd) lentiviral particles in PBS
LVP427-PBS

$

650.00

RFP (EF1a, Hygro) Lentiviral particles
LVP1227

$

295.00

RFP (EF1a, Hygro) lentiviral particles in PBS
LVP1227-PBS

$

650.00

RFP (EF1a, Neo) lentiviral particles
LVP428

$

295.00

RFP (EF1a, Neo) lentiviral particles in PBS
LVP428-PBS

$

650.00

RFP (EF1a, No antibiotics) lentiviral particles
LVP1337

$

295.00

RFP (EF1a, No antibiotics) lentivirus, Concentrated
LVP1337-PBS

$

650.00

RFP (EF1a, Puro) lentiviral particles in PBS
LVP429-PBS

$

650.00

RFP (EF1a, Zeo) Lentiviral particles
LVP1225

$

295.00

RFP (EF1a, Zeo) lentiviral particles in PBS
LVP1225-PBS

$

650.00

RFP (mPGK, Puro) Lentiviral particles
LVP298

$

295.00

RFP (mPGK, Puro) lentiviral particles in PBS
LVP298-PBS

$

650.00

RFP (Ubc, Puro) Lentiviral particles
LVP355

$

295.00

RFP (Ubc, Puro) lentiviral particles in PBS
LVP355-PBS

$

650.00

RFP-2a-Puromycin (CMV promoter), Concentrated Lentivirus
LVP309B-PBS

$

650.00

RFP-2a-Puromycin (EF1a Promoter), Concentrated Lentivirus
LVP429B-PBS

$

650.00

SFFV-GFP (Puro) lentivirus in PBS
LVP1541

$

650.00

SFFV-RFP (Puro) lentivirus in PBS
LVP1542

$

650.00

YFP (CMV-Neo) lentiviral particles in PBS
LVP307-PBS

$

295.00

YFP (CMV, Bsd) lentiviral particles
LVP012

$

295.00

YFP (CMV, Bsd) lentiviral particles in PBS
LVP012-PBS

$

650.00

YFP (CMV, Hygro) lentiviral particles
LVP1352

$

295.00

YFP (CMV, Hygro) lentiviral particles in PBS
LVP1352-PBS

$

650.00

YFP (CMV, Neo) lentiviral particles
LVP307

$

295.00

YFP (CMV, Puro) lentiviral particles
LVP471

$

295.00

YFP (CMV, Puro) lentiviral particles in PBS
LVP471-PBS

$

650.00

YFP (EF1a, Bsd) lentiviral particles
LVP465

$

295.00

YFP (EF1a, Bsd) lentiviral particles in PBS
LVP465-PBS

$

650.00

YFP (EF1a, Hygro) lentiviral particles
LVP1355

$

295.00

YFP (EF1a, Hygro) lentiviral particles in PBS
LVP1355-PBS

$

650.00

YFP (EF1a, Neo) lentiviral particles
LVP466

$

295.00

YFP (EF1a, Neo) lentiviral particles in PBS
LVP466-PBS

$

650.00

YFP (EF1a, Puro) lentiviral particles
LVP467

$

295.00

YFP (EF1a, Puro) lentiviral particles in PBS
LVP467-PBS

$

650.00