Generate the constitutive or inducible expression stable cells in your desired host cell line for your desired target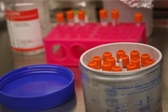 Mammalian stable cell line creation:

 
GenTarget's stable cell line service provides a very cost effective way for you to build a cell line. Using our proprietary lentiviral vectors, we will subclone your target gene into our lentivector, generate the lentivirus particles, sequentially infect the cell line of you request, and select the cell clones that consistently expressing your gene at high levels.
For an inducible expression cell line, we will first infect the cells with TetR repressor-expressing particles to make a TetR stable cell line, then infect with the target expression particles to generate the tetracycline-inducible stable cell line.
Our proprietary suCMV promoter has the strongest expression efficiency available, and will provide extremely high levels of expression for your target. Our unique technology ensures a fast turnaround time. Cell lines are shipped as cryopreserved vials after validating the target gene's integration. We will work with you to ensure that the cell line meets your requirements so that you will get the best quality and the best price. 
Service Procedures of GenTarget Stable Cell line :
Construct a lentiviral vector containing your gene and desired selection marker

Generate lentivirus

Transduce the cell line you request

Select the stably transduced, high-expression cells

Validate integration of the gene via genomic PCR

Validate the highest-expressing clone by Western Blot (if applicable)

Deliver two cryogenic vials of stable cells along with a final report

 
What are the advantages of using lentivirus to generate stable cells?
To make stable a cell line, the target has to be integrated into the host cells' genome for stable, constitutive expression. Random integration (such as by transfection) demonstrates widely varying levels of expression depending on the integration site. Additionally, random integration often results in independent integration of the target and the selection marker, necessitating large-scale screening of select positive clones. Typically less than ten percent of antibiotic-resistant clones express the transgene.  In contrast, lentivirus transduction tends to integrate at high transcription level sites (hot-spots) with a full virus genome. Engineered lentiviral transfer vector that is embedded with a matrix-attachment region (MARs) sequence may provide position-independent transgene expression. Compared to conventional stable cell line construction, transduction with lentivirus produces a much higher positive clone rate and the target always co-exists with the selection marker, therby substantially reducing cost, labor, and time spent selecting stable high expression clones.
Why You Should Use GenTarget's Stable Cell Line Service?

 
Engineered in-house lentiviral vectors provide high efficiency gene integration with extremely low false positives

Safe, self-inactivating, high-titer lentiviral particles can deliver your gene into a wide range of cell lines including non-dividing, primary, or stem cells

Target protein expression can be traced and monitored by fluorescence imaging, allowing sorting or selecting of integrated cells (the fluorescent protein is not fusioned with your target).

Our experts have years of experience in lentiviral cloning and expression

Fast turnaround time

The best price

 
How to order?
Please send your inquiry details via  Contact Us  page or Email us for a quote 
Please check our catalog products for pre-made Stable Cell Lines!