Pathway Reporter
What is Pathway Reporter lentivirus?
GenTarget developed many "pathway reporter lentivirus" product lines, for rapid, sensitive and quantitative monitoring different transduction pathway activation. These lentivirus express a luminescence or fluorescent report  (firefly Luciferase, Renilla luciferase, RFP or GFP fluorescent marker, or SEAP (Secreted Embryonic Alkaline Phosphatase) under a pathway specific promoter, or under a minimal promoter embed multiple tandem repeats of the pathway specific transcription factor binding motif.
The pathway Null control lentivirus have the minimal promoter without any signal pathway specific response elements inside the promoter, which serves as the control baseline signal level.
These lentivirus also express an antibiotic selection marker or another fluorescent marker under a constitutive RSV promoter which provides selection tool, serves as the internal normalization control, or as the convenient monitoring method for virus transduction efficiency. See the lentivectors' core scheme below.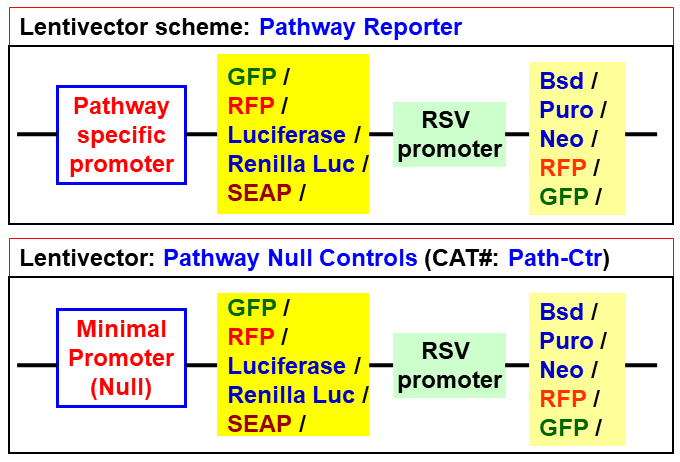 Application for Pathway Reporter Lentivirus
Those premade lentivirus products provide a high sensitive, large dynamic range and simple reporter method, by measuring the activities of a report, for performing gene regulation studies in living mammalian cells and for functional genomics and drug screening  cell signaling assays.
The  SEAP (Secreted Embryonic Alkaline Phosphatase) is secreted into cell culture supernatant and therefore offers many advantages over intracellular reporters, like luciferase. It allows to determine reporter activity without disturbing the cells, does not require the preparation of cell lysates and can be used for kinetic studies
Those lentivirus can be used for generating your own pathway screening assay cell line for the cell based assay in your desired cell types.
Please click into each sub-category below for pathway specific reporter lentivirus products: