Luciferases Lentivirus
Introduction:
Luciferase is a generic term for the class of oxidative enzymes used in bioluminescence and is distinct from a photoprotein.  The most well-known luciferases are from the firefly Luciferase (F-Luc) from Photinus pyralis and the sea pansy Renilla (R-Luc) reniformis, and a red-shifted luciferase (Red-Luc). Some luciferases are naturally secreted, such as Gaussia luciferase and Cypridina luciferase.  Nano-luciferase (N-Luc) is a newly engineered luciferase enzyme with much bright signal.
The luciferase signal can be easily detected, and luciferase enzymatic assays are widely used because of their high sensitivity, high linear dynamical ranges, and high through-put assay adaptation.
Properties of Different Luciferase Enzyme: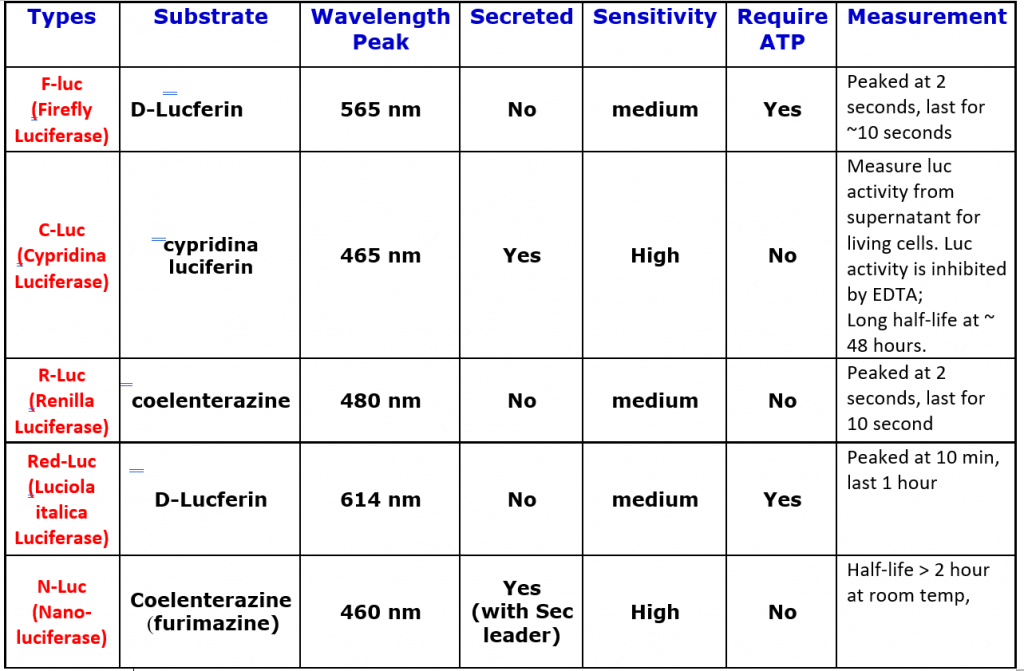 Product Features:
GenTarget luciferase expression lentivirus containing wide selection of fluorescent markers, antibiotic markers, or fluorescent-antibiotic fusion dual markers. The different luciferase is expressed under  the different promoter (CMV, EF1a, CAG, mPGK, Ubc, Actin-beta) to best fit different cell types.  see lentivector core structure scheme below.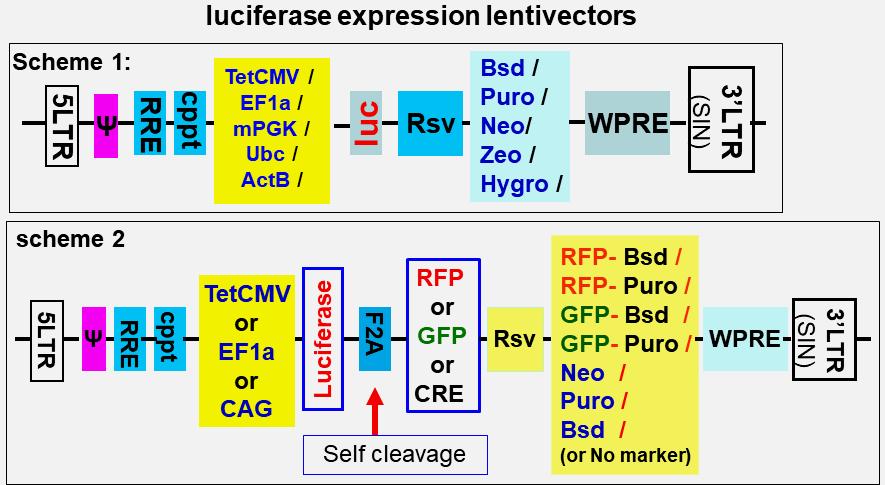 GenTarget's Luciferase Expression lentiviruses are provided as 200 µl/per vial in two formats:   
DMEM medium with 10 % FBS and 60 µg/ml polybrene (10x)

PBS solution, which is best for in vivo applications, cell cultures requiring serum-free conditions, or for hard-to-infect cells. 
 Note: Ultra concentrated virus (>= 109 IFU/ml) is available upon request.
 Or click Product Manual for details (.pdf).
Name
SKU
Price
Buy
CAG-Luciferase (firefly) (Bsd)
LVP568

$

350.00

CAG-Luciferase (firefly) (Bsd), in vivo ready
LVP568-PBS

$

650.00

CAG-Luciferase (firefly) (GFP-Puro), in vivo ready
LVP570-PBS

$

650.00

CAG-Luciferase (firefly) (Neo)
LVP569

$

350.00

CAG-Luciferase (firefly) (Neo), in vivo ready
LVP569-PBS

$

650.00

CAG-Luciferase (firefly) (RFP-Bsd), in vivo ready
LVP571-PBS

$

650.00

CAG-Luciferase (firefly), (GFP-Puro)
LVP570

$

350.00

CAG-Luciferase (firefly), (RFP-Bsd)
LVP571

$

350.00

CAG-Luciferase (Renilla) (Neo)
LVP704

$

350.00

CAG-Luciferase (Renilla) (Neo), in vivo ready
LVP704-PBS

$

650.00

CAG-Luciferase (Renilla) (Puro)
LVP703

$

350.00

CAG-Luciferase (Renilla) (Puro), in vivo ready
LVP703-PBS

$

650.00

CAG-Luciferase (Renilla) (RFP-Bsd)
LVP705

$

295.00

CAG-Luciferase (Renilla) (RFP-Bsd), in vivo ready
LVP705-PBS

$

650.00

CFP-Luciferase fusion (Bsd), Concentrated Lentivirus
LVP1331-PBS

$

650.00

CFP-Luciferase fusion (Neo), Concentrated Lentivirus
LVP906-PBS

$

650.00

CFP-Luciferase fusion (Puro), Concentrated Lentivirus
LVP675-PBS

$

650.00

CMV-Luciferase (Renilla) (Bsd)
LVP372

$

350.00

CMV-Luciferase (Renilla) (Bsd), in vivo ready
LVP372-PBS

$

650.00

CMV-Luciferase (Renilla), (GFP-Puro)
LVP706

$

350.00

CMV-Luciferase (Renilla), (Neo)
LVP370

$

350.00

CMV-Luciferase (Renilla), (Neo), in vivo ready
LVP370-PBS

$

650.00

CMV-Luciferase (Renilla), (Puro)
LVP371

$

350.00

CMV-Luciferase (Renilla), (puro), in vivo ready
LVP371-PBS

$

650.00

CMV-Luciferase (Renilla), (RFP-Bsd)
LVP367

$

350.00

CMV-Luciferase (Renilla), (RFP-Bsd), in vivo ready
LVP367-PBS

$

650.00

CMV-Luciferase (Renilla), (RFP-Puro)
LVP369

$

350.00

CMV-Luciferase (Renilla), (RFP-puro), in vivo ready
LVP369-PBS

$

650.00

CMV-Luciferase-2A-CRE (GFP-Bsd), Concentrated Lentivirus
LVP411-PBS

$

800.00

CMV-Luciferase-2A-CRE (GFP-Puro), Concentrated Lentivirus
LVP412-PBS

$

800.00

CMV-Luciferase-2A-CRE (RFP-Bsd), Concentrated Lentivirus
LVP413-PBS

$

800.00

CMV-Luciferase-2A-CRE (RFP-Puro), Concentrated Lentivirus
LVP414-PBS

$

800.00

EF1a-Luciferase (firefly)-2A-GFP (Puro), Concentrated Lentivirus
LVP437-PBS

$

650.00

EF1a-Luciferase (Renilla) (Bsd)
LVP769

$

350.00

EF1a-Luciferase (Renilla) (Bsd), in vivo ready
LVP769-PBS

$

650.00

EF1a-Luciferase (Renilla) (Neo)
LVP771

$

350.00

EF1a-Luciferase (Renilla) (Neo), in vivo ready
LVP771-PBS

$

650.00

EF1a-Luciferase (Renilla) (Puro)
LVP770

$

350.00

EF1a-Luciferase (Renilla) (Puro), in vivo ready
LVP770-PBS

$

650.00

Firefly-Luciferase (CAG, RFP-Puro) Lentivirus
LVP572

$

350.00

GFP-Luciferase fusion (Neo) lentiviral particles
LVP676-PBS

$

650.00

GFP-Luciferase Fusion (Puro), Concentrated Lentivirus
LVP673-PBS

$

650.00

Luc (firefly)-2A-GFP (EF1a, RFP-Bsd) Lentivirus
LVP463

$

450.00

Luc (firefly)-2A-GFP (EF1a, RFP-Bsd), Concentrated Lentivirus
LVP463-PBS

$

650.00

Luc (firefly)-2A-GFP (EF1a, RFP-Puro) Lentivirus
LVP464

$

450.00

Luc (firefly)-2A-GFP (EFqa, RFP-Puro), Concentrated Lentivirus
LVP464-PBS

$

650.00

Luciferase (Cypridina) (Bsd)
LVP378

$

350.00

Luciferase (Cypridina) (Bsd), in vivo ready
LVP378-PBS

$

650.00

Luciferase (Cypridina), (GFP-Bsd)
LVP374

$

350.00

Luciferase (Cypridina), (GFP-Bsd), in vivo ready
LVP374-PBS

$

650.00

Luciferase (Cypridina), (Neo)
LVP376

$

350.00

Luciferase (Cypridina), (Neo), in vivo ready
LVP376-PBS

$

650.00

Luciferase (Cypridina), (Puro)
LVP377

$

350.00

Luciferase (Cypridina), (puro), in vivo ready
LVP377-PBS

$

650.00

Luciferase (Cypridina), (RFP-Bsd)
LVP373

$

350.00

Luciferase (Cypridina), (RFP-Bsd), in vivo ready
LVP373-PBS

$

650.00

Luciferase (Cypridina), (RFP-Puro)
LVP375

$

350.00

Luciferase (Cypridina), (RFP-puro), in vivo ready
LVP375-PBS

$

650.00

Luciferase (firefly) (CAG, Puro) Lentivirus
LVP567

$

350.00

Luciferase (firefly) (CAG, Puro), concentrated Lentivirus
LVP567-PBS

$

650.00

Luciferase (firefly) (CAG, RFP-Puro) concentrated lentivirus
LVP572-PBS

$

650.00

Luciferase (firefly) (CMV Pro., Bsd)
LVP326

$

350.00

Luciferase (firefly) (CMV Pro., Bsd), Concentrated Lentiviurs
LVP326-PBS

$

650.00

Luciferase (firefly) (CMV, Hygro), Concentrated Lentivirus
LVP1238-PBS

$

650.00

Luciferase (firefly) (CMV, No selection), Concentrated Lentivirus
LVP911a-PBS

$

650.00

Luciferase (firefly) (CMV, o selection) Lentivirus
LVP911a

$

350.00

Luciferase (firefly) (CMV, Puro) Lentivirus
LVP325

$

350.00

Luciferase (firefly) (CMV, Puro), Concentrated Lentivirus
LVP325-PBS

$

650.00

Luciferase (firefly) (EF1a, Bsd) Lentivirus
LVP433

$

350.00

Luciferase (firefly) (EF1a, Bsd), Concentrated Lentivirus
LVP433-PBS

$

650.00

Luciferase (firefly) (EF1a, Neo) Lentivirus
LVP435

$

350.00

Luciferase (firefly) (EF1a, Neo), Concentrated Lentivirus
LVP435-PBS

$

650.00

Luciferase (firefly) (EF1a, No antibiotic), Concentrated Lentivirus
LVP911b-PBS

$

650.00

Luciferase (firefly) (EF1a, No antibiotics), Lentivirus
LVP911b

$

350.00

Luciferase (firefly) (EF1a, Puro) Lentivirus
LVP434

$

350.00

Luciferase (firefly) (EF1a, Puro), Concentrated Lentivirus
LVP434-PBS

$

650.00

Luciferase (firefly)-2A-GFP (CMV, Bsd), Concentrated Lentivirus
LVP323-PBS

$

650.00

Luciferase (firefly)-2A-GFP (CMV, Neo) Lentivirus
LVP403

$

350.00

Luciferase (firefly)-2A-GFP (CMV, Neo), Concentrated Lentivirus
LVP403-PBS

$

650.00

Luciferase (firefly)-2A-GFP (CMV, No antibiotics) Lentivirus
LVP806

$

350.00

Luciferase (firefly)-2A-GFP (CMV, No antibiotics), Concentrated Lentivirus
LVP806-PBS

$

650.00

Luciferase (firefly)-2A-GFP (CMV, Puro) Lentivirus
LVP020

$

350.00

Luciferase (firefly)-2A-GFP (CMV, Puro), concentrated Lentivirus
LVP020-PBS

$

650.00

Luciferase (firefly)-2A-GFP (CMV, RFP-Bsd)
LVP461

$

450.00

Luciferase (firefly)-2A-GFP (CMV, RFP-Bsd), Concentrated Lentivirus
LVP461-PBS

$

650.00

Luciferase (firefly)-2A-GFP (CMV, RFP-Puro) Lentivirus
LVP462

$

450.00

Luciferase (firefly)-2A-GFP (CMV, RFP-Puro), Concentrated Lentivirus
LVP462-PBS

$

650.00

Luciferase (firefly)-2A-GFP (EF1a, Bsd) Lentivirus
LVP436

$

350.00

Luciferase (firefly)-2A-GFP (EF1a, Bsd), Concentrated Lentivirus
LVP436-PBS

$

650.00

Luciferase (firefly)-2A-GFP (EF1a, No antibiotic) Lentivirus
LVP1060

$

350.00

Luciferase (firefly)-2A-GFP (EF1a, No antibiotic), Concentrated Lentivirus
LVP1060-PBS

$

650.00

Luciferase (firefly)-2A-GFP (EF1a, Puro) Lentivirus
LVP437

$

350.00

Luciferase (firefly)-2A-RFP (CMV, Bsd) Lentivirus
LVP009

$

350.00

Luciferase (firefly)-2A-RFP (CMV, Bsd), Concentrated Lentivirus
LVP009-PBS

$

650.00

Luciferase (firefly)-2A-RFP (CMV, Neo) Lentivirus
LVP402

$

350.00

Luciferase (firefly)-2A-RFP (CMV, Neo), Concentrated Lentivirus
LVP402-PBS

$

650.00

Luciferase (firefly)-2A-RFP (CMV, No antibiotics) Lentivirus
LVP807

$

350.00

Luciferase (firefly)-2A-RFP (CMV, No antibiotics), Concentrated Lentivirus
LVP807-PBS

$

650.00

Luciferase (firefly)-2A-RFP (CMV, Puro)
LVP324

$

350.00

Luciferase (firefly)-2A-RFP (CMV, Puro) Lentivirus in PBS
LVP324-PBS

$

650.00

Luciferase (firefly)-2A-RFP (EF1a, Neo) Lentivirus
LVP441

$

350.00

Luciferase (firefly)-2A-RFP (EF1a, Neo), Concentrated Lentivirus
LVP441-PBS

$

650.00

Luciferase (firefly)-2A-RFP (EF1a, Puro) Lentivirus
LVP440

$

350.00

Luciferase (firefly)-2A-RFP (EF1a, Puro), Concentrated Lentivirus
LVP440-PBS

$

650.00

Luciferase (firefly)-2A-RFP Lentivirus
LVP1061

$

350.00

Luciferase (firefly)-2A-RFP, Concentrated Lentivirus
LVP1061-PBS

$

650.00

Luciferase (firefly), (ActB, Puro)
LVP1237

$

350.00

Luciferase (firefly), (ActB, Puro), in vivo ready
LVP1237-PBS

$

650.00

Luciferase (firefly), (CMV, Hygro) Lentivirus
LVP1238

$

350.00

Luciferase (firefly), (CMV, Neo) Lentivirus
LVP283

$

350.00

Luciferase (firefly), (CMV, Neo), Concentrated Lentivirus
LVP283-PBS

$

650.00

Luciferase (firefly), (CMV, Zeo) Lentivirus
LVP1222

$

350.00

Luciferase (firefly), (CMV, Zeo), Concentrated Lentivirus
LVP1222-PBS

$

650.00

Luciferase (firefly), (EF1a, Hygro) Lentivirus
LVP1239

$

350.00

Luciferase (firefly), (EF1a, Hygro), Concentrated Lentivirus
LVP1239-PBS

$

650.00

Luciferase (firefly), (EF1a, Zeo) Lentivirus
LVP1223

$

350.00

Luciferase (firefly), (EF1a, Zeo), Concentrated Lentivirus
LVP1223-PBS

$

650.00

Luciferase (firefly), (mPGK, Puro)
LVP1235

$

350.00

Luciferase (firefly), (mPGK, Puro), in vivo ready
LVP1235-PBS

$

650.00

Luciferase (firefly), (Ubc, Puro)
LVP1236

$

350.00

Luciferase (firefly), (Ubc, Puro), in vivo ready
LVP1236-PBS

$

650.00

Luciferase (Renilla), (CMV promoter, GFP-Bsd)
LVP368

$

350.00

Luciferase (Renilla), (GFP-puro), in vivo ready
LVP706-PBS

$

650.00

Luciferase-2A-CRE (CMV Pro, Puro) Lentivirus
LVP409

$

450.00

Luciferase-2A-CRE (CMV Pro, Puro) Concentrated Lentivirus
LVP409-PBS

$

800.00

Luciferase-2A-CRE (CMV Pro, Bsd)
LVP304

$

450.00

Luciferase-2A-CRE (CMV Pro, Bsd) Concentrated Lentivirus
LVP304-PBS

$

800.00

Luciferase-2A-CRE (CMV Pro, Neo) Concentrated Lentivirus
LVP410-PBS

$

800.00

Luciferase-2A-CRE (GFP-Bsd) lentiviral particles
LVP411

$

450.00

Luciferase-2A-CRE (GFP-Puro) lentiviral particles
LVP412

$

450.00

Luciferase-2A-CRE (Neo) lentiviral particles
LVP410

$

450.00

Luciferase-2A-CRE (RFP-Bsd) lentiviral particles
LVP413

$

450.00

Luciferase-2A-CRE (RFP-Puro) lentiviral particles
LVP414

$

450.00

Luciferase-2A-GFP (CMV, Bsd) Lentivirus
LVP323

$

350.00

Luciferase-2A-GFP (EF1a, Neo) Lentivirus
LVP438

$

350.00

Luciferase-2A-GFP (EF1a, Neo), Concentrated Lentivirus
LVP438-PBS

$

650.00

Luciferase-2A-RFP (EF1a, Bsd) Lentivirus
LVP439

$

350.00

Luciferase-2A-RFP (EF1a, Bsd), Concentrated Lentivirus
LVP439-PBS

$

650.00

Red-Luciferase (EF1a, Bsd) Lentivirus
LVP1232

$

350.00

Red-Luciferase (EF1a, Bsd) Lentivirus in PBS
LVP1232-PBS

$

650.00

Red-Luciferase (EF1a, Hygro) Lentivirus
LVP1305

$

350.00

Red-Luciferase (EF1a, Hygro) Lentivirus in PBS
LVP1305-PBS

$

650.00

Red-Luciferase (EF1a, Neo) Lentivirus
LVP1234

$

350.00

Red-Luciferase (EF1a, Neo) Lentivirus in PBS
LVP1234-PBS

$

650.00

Red-Luciferase (EF1a, Puro) Lentivirus
LVP475

$

350.00

Red-Luciferase (EF1a, Puro) Lentivirus in PBS
LVP475-PBS

$

650.00

Red-Luciferase (EF1a, Zeo) Lentivirus
LVP1304

$

350.00

Red-Luciferase (EF1a, Zeo) Lentivirus in PBS
LVP1304-PBS

$

650.00

Renilla Luciferase (CMV, GFP-Bsd), Concentrated Lentivirus
LVP368-PBS

$

650.00

RFP-Luciferase fusion (Neo) Lentivirus in PBS
LVP677-PBS

$

650.00

RFP-Luciferase Fusion (Puro), Concentrated Lentivirus
LVP674-PBS

$

650.00

SFFV-Luciferase (Puro) lentivirus in PBS
LVP1543

$

650.00

SFFV-RLuc (Puro) lentivirus in PBS
LVP1544

$

650.00