SEAP Reporter
About SEAP Report:
SEAP (Secreted Embryonic Alkaline Phosphatase) is a truncated form of human placental alkaline phosphatase (PLAP) through the deletion of a GPI anchor. It is secreted into cell culture supernatant and therefore offers many advantages over intracellular reporters, like luciferase. It allows to determine reporter activity without disturbing the cells, does not require the preparation of cell lysates and can be used for kinetic studies.
SEAP Report Lentivirus: 
The SEAP is commonly used as a powerful reporter gene for the investigation of promoter activity in transfected eukaryotic cells. The SEAP expression level (reflect its promoter activity) can be detected via chemiluminescent reporter assay based on dioxetane CSPD (chloro-5-substituted adamantyl-1,2-dioxetane phosphate), and provides a convenient and highly sensitive method for the quantitation of transcriptional activity.
GenTarget provides Pre-made lentivirus expressing SEAP under different promoters (TetCMV, EF1a, CAG,  Ubc, mPGK, Actin-beta or a signal pathway responsive promoter), containing an antibiotic selection (Puromycin, Blasticidin, Neomycin, Hygromycin, Zeocin), or a fluorescent marker (GFP, RFP), or fluorescent-antibiotic fusion dual selection. The lentivector's core structure scheme is presented in the picture below: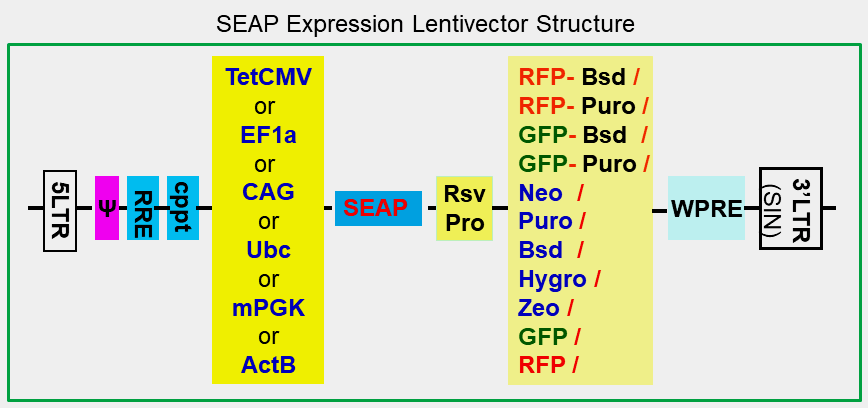 See each product below. Click Product Manual for product list.
Name
SKU
Price
Buy
SEAP (ActB, Puro) Lentivirus
LVP1221

$

295.00

SEAP (ActB, Puro) Lentivirus in PBS
LVP1221-PBS

$

650.00

SEAP (CAG, Bsd) Lentivirus
LVP1203

$

295.00

SEAP (CAG, Bsd) Lentivirus in PBS
LVP1203-PBS

$

650.00

SEAP (CAG, GFP-Bsd) Lentivirus
LVP1207

$

295.00

SEAP (CAG, GFP-Bsd) Lentivirus in PBS
LVP1207-PBS

$

650.00

SEAP (CAG, GFP-Puro) Lentivirus
LVP1208

$

295.00

SEAP (CAG, GFP-Puro) Lentivirus in PBS
LVP1208-PBS

$

650.00

SEAP (CAG, Neo) Lentivirus
LVP1204

$

295.00

SEAP (CAG, Neo) Lentivirus in PBS
LVP1204-PBS

$

650.00

SEAP (CAG, Puro) Lentivirus
LVP1202

$

295.00

SEAP (CAG, Puro) Lentivirus in PBS
LVP1202-PBS

$

650.00

SEAP (CAG, RFP-Bsd) Lentivirus
LVP1205

$

295.00

SEAP (CAG, RFP-Bsd) Lentivirus in PBS
LVP1205-PBS

$

650.00

SEAP (CAG, RFP-Puro) Lentivirus
LVP1206

$

295.00

SEAP (CAG, RFP-Puro) Lentivirus in PBS
LVP1206-PBS

$

650.00

SEAP (EF1a, Bsd) Lentivirus
LVP1194

$

295.00

SEAP (EF1a, Bsd) Lentivirus in PBS
LVP1194-PBS

$

650.00

SEAP (EF1a, GFP-Bsd) Lentivirus
LVP1198

$

295.00

SEAP (EF1a, GFP-Bsd) Lentivirus in PBS
LVP1198-PBS

$

650.00

SEAP (EF1a, GFP-Puro) Lentivirus
LVP1199

$

295.00

SEAP (EF1a, GFP-Puro) Lentivirus in PBS
LVP1199-PBS

$

650.00

SEAP (EF1a, GFP) Lentivirus
LVP1217

$

295.00

SEAP (EF1a, GFP) Lentivirus in PBS
LVP1217-PBS

$

650.00

SEAP (EF1a, Hygro) Lentivirus
LVP1200

$

295.00

SEAP (EF1a, Hygro) Lentivirus in PBS
LVP1200-PBS

$

650.00

SEAP (EF1a, Neo) Lentivirus
LVP1195

$

295.00

SEAP (EF1a, Neo) Lentivirus in PBS
LVP1195-PBS

$

650.00

SEAP (EF1a, Puro) Lentivirus
LVP1193

$

295.00

SEAP (EF1a, Puro) Lentivirus in PBS
LVP1193-PBS

$

650.00

SEAP (EF1a, RFP-Bsd) Lentivirus
LVP1196

$

295.00

SEAP (EF1a, RFP-Bsd) Lentivirus in PBS
LVP1196-PBS

$

650.00

SEAP (EF1a, RFP-Puro) Lentivirus
LVP1197

$

295.00

SEAP (EF1a, RFP-Puro) Lentivirus in PBS
LVP1197-PBS

$

650.00

SEAP (EF1a, RFP) Lentivirus
LVP1218

$

295.00

SEAP (EF1a, RFP) Lentivirus in PBS
LVP1218-PBS

$

650.00

SEAP (EF1a, Zeo) Lentivirus
LVP1201

$

295.00

SEAP (EF1a, Zeo) Lentivirus in PBS
LVP1201-PBS

$

650.00

SEAP (mPGK, Puro) Lentivirus
LVP1220

$

295.00

SEAP (mPGK, Puro) Lentivirus in PBS
LVP1220-PBS

$

650.00

SEAP (TetCMV, Bsd) Lentivirus
LVP1185

$

295.00

SEAP (TetCMV, Bsd) Lentivirus in PBS
LVP1185-PBS

$

650.00

SEAP (TetCMV, GFP-Bsd) Lentivirus
LVP1189

$

295.00

SEAP (TetCMV, GFP-Bsd) Lentivirus in PBS
LVP1189-PBS

$

650.00

SEAP (TetCMV, GFP-Puro) Lentivirus
LVP1190

$

295.00

SEAP (TetCMV, GFP-Puro) Lentivirus in PBS
LVP1190-PBS

$

650.00

SEAP (TetCMV, GFP) Lentivirus
LVP1215

$

295.00

SEAP (TetCMV, GFP) Lentivirus in PBS
LVP1215-PBS

$

650.00

SEAP (TetCMV, Hygro) Lentivirus
LVP1191

$

295.00

SEAP (TetCMV, Hygro) Lentivirus in PBS
LVP1191-PBS

$

650.00

SEAP (TetCMV, Neo) Lentivirus
LVP1186

$

295.00

SEAP (TetCMV, Neo) Lentivirus in PBS
LVP1186-PBS

$

650.00

SEAP (TetCMV, Puro) Lentivirus
LVP1184

$

295.00

SEAP (TetCMV, Puro) Lentivirus in PBS
LVP1184-PBS

$

650.00

SEAP (TetCMV, RFP-Bsd) Lentivirus
LVP1187

$

295.00

SEAP (TetCMV, RFP-Bsd) Lentivirus in PBS
LVP1187-PBS

$

650.00

SEAP (TetCMV, RFP-Puro) Lentivirus
LVP1188

$

295.00

SEAP (TetCMV, RFP-Puro) Lentivirus in PBS
LVP1188-PBS

$

650.00

SEAP (TetCMV, RFP) Lentivirus
LVP1216

$

295.00

SEAP (TetCMV, RFP) Lentivirus in PBS
LVP1216-PBS

$

650.00

SEAP (TetCMV, Zeo) Lentivirus
LVP1192

$

295.00

SEAP (TetCMV, Zeo) Lentivirus in PBS
LVP1192-PBS

$

650.00

SEAP (Ubc, Puro) Lentivirus
LVP1219

$

295.00

SEAP (Ubc, Puro) Lentivirus in PBS
LVP1219-PBS

$

650.00