ImmunoOncology Research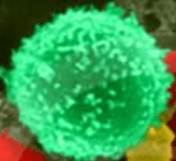 GenTarget's Products for ImmunoOncology / Immunotherapy Research:
Gentarget is dedicated to support the ImmunoOncology or Immunotherapy research field, by providing comprehensive product lines, see product categories listed below. All products are provided for Research Use Only.
What is Immunotherapy:
Immunotherapy is an emerging cancer treatment roughly including two aspects: (1) deliver the genetically modified T cells to patients to kill cancer cells; (2) promote the immune responses for cancer suppression.
The advantages of Immunotherapy are: (1) the targeted cancer cell treatment can be achieved because of immune system precision. (2) immunotherapy is live, continuous, and dynamical treatment and memorized so it can be self-adjusted, long-term treatment corresponding to the cancer development;(3) T- cell therapy can kill solid tumors, which are difficult to treat with other immune therapies.
How immunotherapy works:
Human immune system is activated when any "foreign substances" are encountered.  The immune response attacks and destroys anything containing Foreign substances, like cancer cells. The principle of immunotherapy is:
activating, training, or engineering patient's immune cells in a lab and reintroducing them into the same patient, to find and attack cancer cells;
Stimulating, or boosting the natural defenses of your immune system so it works harder or smarter to find and attack cancer cells;
The main types of immunotherapy:
checkpoint inhibitors: Immune checkpoints are molecules on certain immune cells that need to be activated (or inactivated) to start an immune response. Cancer cells sometimes find ways to use these checkpoints to avoid being attacked by the immune system. Checkpoint inhibitors are drugs or antibodies to block the signaling pathway that suppresses the immune system, which enables immune effector cells to attack cancer cells more aggressively. It acts at the activation of immune response, not directly on cancer cells.
Genetically Engineered T Cells: Thistreatmentis directly act on cancer cells including several methods:(1) Expressing a CAR (Chimeric Antigen Receptor) that is composed of an intracellular signaling domain and the linked extracellular domain derived from a tumor-specific antibody. The tumor-specific receptor guilds the T cells to attack specific tumor types. The killing depends upon the desired signaling pathway. The ideal cases are the CAR target only present on tumor cells, not normal cells; (2)The T cell was modified at its endogenous TCR (T Cell Receptor ) gene to recognize a tumor-specific antigen, which activates the native T cell killing signal pathway. The TCR method has less side-effects than CAR does who elevates an un-nature signal level resulted in the severe Cytokine release syndrome side-effect; (3)coupled with a tumor-specific antigen binding domain (TAC: T-cell Antigen Coupler),(4)combined engineered T cells with the knockout of endogenous TCR with insertion of an anti-cancer factor so that the T cell can provide as the allogeneic  adoptive anti-cancer treatment;
Cytokines: Cytokines encompass a variety of protein families including interleukins, interferons, growth factors, tumor necrosis factors, and colony-stimulating factors. Cytokines act on every phase of the cancer immunity cycle, improving antigen priming, inflammation and hematopoiesis, and other specific physiological response to external stimuli including cancer. cytokines can stimulate the immune cells to attack cancer.
Others: cancer immunotherapy has many other types of treatment, including Monoclonal antibodies (raised from cancel specific antigen, attack a very specific part of cancer cell); Cancer vaccines; Oncolytic virus, enrich or enhance the NK cell, Macrophage cell and so on.
Name
SKU
Price
Buy
A549 / Luciferase-2A-GFP (Puromycin) stable cells
SC043-LG

$

1,500.00

Anti-CD19-ScFv-4-1BB-CD3ζ
LVP1444

$

650.00

Anti-CD19-ScFv-4-1BB-CD3ζ (Bsd)
LVP1441

$

650.00

Anti-CD19-ScFv-4-1BB-CD3ζ (GFP-Puro)
LVP1442

$

650.00

Anti-CD19-ScFv-4-1BB-CD3ζ (Puro)
LVP1440

$

650.00

Anti-CD19-ScFv-4-1BB-CD3ζ (RFP-Puro)
LVP1443

$

650.00

Anti-CD19-ScFv-CD28-CD3ζ
LVP1449

$

650.00

Anti-CD19-ScFv-CD28-CD3ζ (Bsd)
LVP1446

$

650.00

Anti-CD19-ScFv-CD28-CD3ζ (GFP-Puro)
LVP1447

$

650.00

Anti-CD19-ScFv-CD28-CD3ζ (Puro)
LVP1445

$

650.00

Anti-CD19-ScFv-CD28-CD3ζ (RFP-Puro)
LVP1448

$

650.00

CAR negative control: 4-1BB-CD3ζ (Puro)
CAR-Ctr1

$

395.00

CAR negative control: Anti-CD19-ScFv-4-1BB (Puro)
CAR-Ctr2

$

395.00

CAR negative control: Anti-CD19-ScFv-CD28 (Puro)
CAR-Ctr4

$

395.00

CAR negative control: CD28-CD3ζ (Puro)
CAR-Ctr3

$

395.00

CHO-K1 / CD19 & GFP Expression Stable Cell Line
SC086

$

4,000.00

CHO-K1 / GFP stable cells (Puromycin)
SC039-Puro

$

1,000.00

GFP & RFP HEK293 stable cells
SC009

$

1,400.00

h CD19 (EF1a, Puro) Expression, Concentrated Lentivirus
LVP1451

$

650.00

h CD26 (EF1a, Puro) Expression, Concentrated Lentivirus
LVP1452

$

650.00

h PDL1 (EF1a, Puro) Expression, Concentrated Lentivirus
LVP1450

$

650.00

HEK293 / h PDL1 Expression Stable Cells
SC083

$

1,500.00

HEK293 / human CD19 Expression Stable Cell Line
SC087

$

3,000.00

Hela-GFP stable cells (Bsd)
SC034-Bsd

$

650.00

Hela-nucGFP stable cells
SC070-G

$

1,000.00

Human 786-O (Luciferase / GFP) Stable Cells
SC069-LG

$

3,500.00

Human AsPC1 (Luciferase & GFP) Stable Cells
SC062-LG

$

1,500.00

Human B lymphocyte / GFP Stable Cells
SC060-G

$

2,000.00

Human ES2 (Luciferase & GFP) Stable Cells
SC066-LG

$

1,500.00

Human ES2 / Luciferase Stable Cells
SC066-Luc

$

1,000.00

Human HT-29 / GFP Stable Cells
SC080-G

$

2,500.00

Human MCF10A / GFP (Puro) Stable Cells
SC073-GP

$

2,500.00

Human PANC-1 / (Luciferase & GFP) Stable Cells
SC068-LG

$

2,000.00

Human SH-SY5Y / GFP stable cell line
SC042

$

550.00

Human SH-SY5Y / Luciferase (firefly) stable cell line
SC094-Luc

$

1,500.00

Human SW1990 / GFP (Puro) Stable Cells
SC074-GP

$

2,000.00

Human SW403 / GFP Stable Cells
SC067-G

$

1,000.00

Human T47D / GFP Stable Cells
SC072-G

$

1,500.00

Human U2OS / GFP Stable Cells
SC084-G

$

2,500.00

Jurkat / GFP stable Cell Line (EF1a Promoter)
SC049-1

$

2,000.00

Luciferase & GFP / HEK293 stable cells (Puro)
SC002-GP

$

600.00

MDA-MB-231 / GFP (Puro) stable cell line
SC040-Puro

$

800.00

MLLB2 / GFP (Neomycin) stable cell line
SC055-G

$

1,000.00

Mouse CT26 / GFP Stable Cells
SC061-G

$

1,000.00

Mouse CT26 / PDL1 Stable Cells
SC061-PDL1

$

1,500.00

Mouse MB49 (Luciferase & GFP) Stable Cells
SC065-LG

$

2,000.00

Mouse MB49 / GFP Stable Cells
SC065-G

$

1,500.00

Mouse Panc02 / GFP Stable Cell Line
SC078-G

$

3,000.00

RFP / CHO-K1 Stable Cell Line
SC039-Puro-1

$

1,500.00

RKO / GFP stable cells (Blasticidin)
SC047-GB

$

800.00