CRE reporting cells
About CRE-LoxP for

GFP

/RFP

color switch:
Those reporting cell lines, derived from HEK293 cells, constitutively expresses a "LoxP-GFP-Stop-LoxP-RFP-Stop" cassette under strong suCMV promoter. See the genomic integrated express cassette structure below.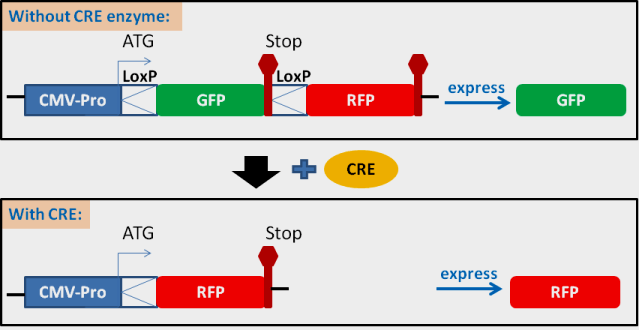 When CRE enzyme is present, CRE-LoxP recombination will excise out the GFP region between two loxP sites, resulting GFP signal disappearing and RFP signal being turned on in the cells.  
The CRE reporting cell lines are used to monitor or confirm the efficiency of CRE recombination in vivo. It is a great method and easy tool to verify the CRE recombination events ( by your CRE expression plasmids, or  CRE expression lentivirus, or purified CRE enzyme) in vivo conditions. It is also a control test to verify your CRE-loxP based system.
Gentarget developed three CRE reporting Cell lines containing different antibiotic selection maker, Puromycin, Neomycin or Blasticidin. see details in Product Manual.
Product Citations: