Assay Cell Lines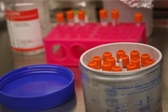 The validation assays for the engineered T cells, are the most important step to obtain the best CAR-T in preclinical researches and clinical trials. Those assays include verifying the CAR gene expression (by Western blot, ELISA, Flow cytometry, or IHC), verifying the CAR's immune responses (by cytokines release test, cyto-toxicity test, cell proliferation test), and verifying the CAR's efficacy (by cell bases assay, T cell-mediated target cell lysis assay, and more).
To evaluate the targeted killing efficacy of CAR-T, Gentarget generates many targeted cell lines from different tumor cell types that are labeled with a fluorescent (GFP or RFP), or a tumor target (for example, CD19, PDL1  cell surface marker). When the target cells are co-cultured with the CAR engineered T cells, the target cells are killed and lost the fluorescent signal as results of cell lysis. The live cells can be imaged and monitored at real-time to measure the tumor cell lysis in Flow cytometry. It provides a fast, easy validation approach for CAR-T products. Those cell lines provide convenient, real-time monitoring of CAR efficacy and other pathway-specific reactions, in dose and time course matter.
Please see each cell line by clicking on each product page below.
Name
SKU
Price
Buy
A549 / Luciferase-2A-GFP (Puromycin) stable cells
SC043-LG

$

1,500.00

CHO-K1 / CD19 & GFP Expression Stable Cell Line
SC086

$

4,000.00

CHO-K1 / GFP stable cells (Puromycin)
SC039-Puro

$

1,000.00

GFP & RFP HEK293 stable cells
SC009

$

1,400.00

HEK293 / h PDL1 Expression Stable Cells
SC083

$

1,500.00

HEK293 / human CD19 Expression Stable Cell Line
SC087

$

3,000.00

Hela-GFP stable cells (Bsd)
SC034-Bsd

$

650.00

Hela-nucGFP stable cells
SC070-G

$

1,000.00

Human 786-O (Luciferase / GFP) Stable Cells
SC069-LG

$

3,500.00

Human AsPC1 (Luciferase & GFP) Stable Cells
SC062-LG

$

1,500.00

Human B lymphocyte / GFP Stable Cells
SC060-G

$

2,000.00

Human ES2 (Luciferase & GFP) Stable Cells
SC066-LG

$

1,500.00

Human ES2 / Luciferase Stable Cells
SC066-Luc

$

1,000.00

Human HT-29 / GFP Stable Cells
SC080-G

$

2,500.00

Human MCF10A / GFP (Puro) Stable Cells
SC073-GP

$

2,500.00

Human PANC-1 / (Luciferase & GFP) Stable Cells
SC068-LG

$

2,000.00

Human SH-SY5Y / GFP stable cell line
SC042

$

550.00

Human SH-SY5Y / Luciferase (firefly) stable cell line
SC094-Luc

$

1,500.00

Human SW1990 / GFP (Puro) Stable Cells
SC074-GP

$

2,000.00

Human SW403 / GFP Stable Cells
SC067-G

$

1,000.00

Human T47D / GFP Stable Cells
SC072-G

$

1,500.00

Human U2OS / GFP Stable Cells
SC084-G

$

2,500.00

Jurkat / GFP stable Cell Line (EF1a Promoter)
SC049-1

$

2,000.00

Luciferase & GFP / HEK293 stable cells (Puro)
SC002-GP

$

600.00

MDA-MB-231 / GFP (Puro) stable cell line
SC040-Puro

$

800.00

MLLB2 / GFP (Neomycin) stable cell line
SC055-G

$

1,000.00

Mouse CT26 / GFP Stable Cells
SC061-G

$

1,000.00

Mouse CT26 / PDL1 Stable Cells
SC061-PDL1

$

1,500.00

Mouse MB49 (Luciferase & GFP) Stable Cells
SC065-LG

$

2,000.00

Mouse MB49 / GFP Stable Cells
SC065-G

$

1,500.00

Mouse Panc02 / GFP Stable Cell Line
SC078-G

$

3,000.00

RFP / CHO-K1 Stable Cell Line
SC039-Puro-1

$

1,500.00

RKO / GFP stable cells (Blasticidin)
SC047-GB

$

800.00